Scholarships for hearing impaired students is obtainable if you have a hearing disability. There are many different hearing impaired scholarships and grants out there for students with hearing problems, and they can help dedicated students attain the ultimate goal of a college degree. Keep in mind that most of these disability scholarships and grants for hearing impaired require that the student have diagnosed hearing loss that occurred before they learned to speak. While it does not have to be total hearing loss, it does need to be profound to be considered for one of these opportunities.

One of the many disability scholarships for the hearing impaired available today is the Graduate Fellowship Fund. The GFF offers financial assistance to deaf individuals who want to obtain a doctoral degree. Students must be enrolled in an accredited college in order to be able to apply for this award.

The Minnie Pearl Scholarship program is another hearing scholarship that students with deafness related disabilities can obtain. Students applying for this award must be exceptional in academics and must hold at least a 3.0 grade point average. There are 14 of these scholarships in the amount of two thousand dollars each. Students who are applying must have been accepted by an accredited university, but not yet be attending.

For members of the National Fraternal Society of the Deaf, there are ten 1000 dollar scholarships available each year. Students who are interested in these deaf scholarships must be deaf or hard of hearing and be enrolled in an accredited postsecondary educational institution. Applicants must have been a member of the fraternity for at least a year prior to the application submission.

Students attending an accredited four year institution in the United States or Canada are eligible to apply for the Sertoma International Scholarship. The thirteen 1000 dollar rewards are made possible by the donations given by Oticon and Phonetic Ear corporations. Students who apply must have at least a 3.2 grade point average as well as documented hearing loss.

The United Way provides disability awards that vary between five hundred and one thousand dollars to students wishing to pursue a two or four year degree. There are fourteen of these awards given out each year. In order to be eligible, the student must have been part of a Courage Center vocational program at some point in the past.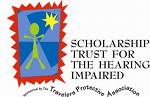 For those who may benefit from further education, but are not pursuing an actual college degree, there are options. The Travelers Protective Association of America has set up a scholarship for the deaf and near deaf. The purpose of this hearing scholarship is to provide financial assistance to students who may benefit from various types of treatment or special education. All applicants must show financial need in order to qualify.

As you can see, there are many different disability scholarships for hearing impaired students available with some sort of hearing loss. This scholarships list cannot even come close to listing every hearing scholarship and grant opportunity that is out there. The fact is, however, that hearing disabilities scholorships can make it a little bit easier to attend college and attain a degree if you suffer from a hearing disability. These hearing impaired scholarships are not hard to find, and they stand to make your life so much better.
Disability scholarships student blog!
Disability Scholarships and Grants.
Quick and Easy Scholarships are very Unusual Scholarships.
Ann Ford Disability Scholarship.
Disability scholarships for blind.
Visually impaired disability scholarships.
Unusual Deaf Scholarships for Hearing Disabilities by Alexander Graham Bell.