AmeriGlide Achievers Scholarships for Disabled Students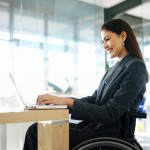 The AmeriGlide Achievers scholarships for disabled students program is a twice yearly award backed by the wheelchair and mobility supplier AmeriGlide. AmeriGlide Achievers Scholarships for disabled college students are awarded to full time college students who also use a manual or electric wheelchair. It is natural this supplier of mobility products would show their support to those students with their own wheelchair scholarship. The amount of $1000.00 is awarded to a mobility challenged students enrolled in a college program. It's not much but the qualifying criterion is very fair for those who are wheelchair bound.
AmeriGlide is a well known supplier of mobility products for the home including manual and electric wheel chairs, stair lifts and bath equipment. Their intent in forming the AmeriGlide Achievers Scholarship was to support youth with mobility related disabilities in their quest for higher learning. Students with mobility related disabilities often face challenges from the very beginning of their education and it continues. Despite the fact that laws are enacted to make public buildings accessible to all, not every building can be so modified. These are challenges unique to those with mobility disabilities. However AmeriGlide has chosen to acknowledge those mobility impaired students dedicated to higher education by supplying a cash scholarship intended to pay for necessary expenses such as books, materials, tuition, or other academic related expenses.
The requirements for the Ameriglide scholarships for disabled students state that the student must be enrolled full time in an accredited 2 or 4 year college. They must use a manual or electric wheelchair. They must have a GPA of at least 3.0 and submit the appropriate documentation and references. They must also submit the application form by the July 31st deadline, and must also submit the essay which must be no longer than 500 words.
The AmeriGlide Achievers Scholarship is one of the well known scholarships for students with disabilities. The intent is to provide funds for books or for other necessities for students with mobility related impairments. These students will be asked to furnish certain information relating to their mobility impairment in addition to the ordinary scholastic and reference material. AmeriGlide Achievers Scholarships are awarded for Spring and Fall school semesters and occur yearly.
This year's essay questions have to do with mobility issues and the essay must be submitted as an answer to either one of these questions but not both. The entire application process for the AmeriGlide Achievers scholarship for the disabled can be completed online and the winner's essay and their photo as well as a brief biography of the winner will be posted on the site. Application for the AmeriGlide Achievers Scholarship agrees to the use of the photo essay and biography. More information on can be found at the AmeriGlide Achievers scholarships for disabled students.